In TRIZ, inventions are categorized into five levels:
• Level 1 - Routine design problems solved by methods well known within the specialty.
• Level 2 - Minor improvements to an existing system using methods known within the industry.
• Level 3 - Fundamental improvement to an existing system using methods known outside the industry.
• Level 4 - A new generation of a system that entails a new principle for performing the system's primary functions.
• Level 5 - A rare scientific discovery or pioneering invention of an essentially a new system.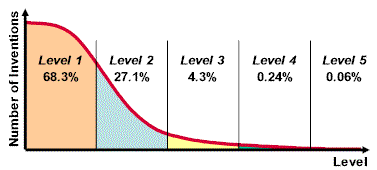 Example: A heavy machine vibrates excessively, creating problems in adjoining systems. A level 1 solution can be offered: placing a rubber pad under the machine to absorb the vibration. If this is not adequate, we can try to compensate for the vibration using anti-vibration, a level 3 solution. If this doesn't work we might try an air or magnetic "pillow," a level 4 solution, and so on. The table below explains why inventive problems are especially difficult to solve.